Open Sound Profile and open menu
Tap on Edit Profiles
Select the profile you want to change the tones.
Expand the Ringtones section.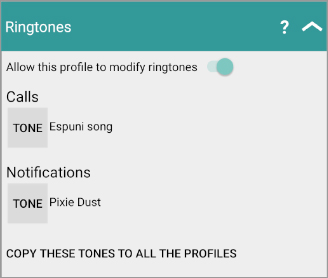 Activate the option 'Allow this profile to modify ringtones'.
Click on the Tone (please note there are 2 tone buttons. One for calls, the other one for the default notification).
A list with the available ringtones in your phone will be displayed. Choose the one you want.
Don't forget to Save your changes.
As you can see in the screenshot, you can optionally copy these ringtones to the rest of the profiles.
Can I use a mp3 file?
You can use a mp3 file (or any other music file stored in your SD-Card or internal memory). Depending on the Android version you have or your device manufacturer, you may need a File Explorer Browser to get to it. Sound Profile recommends a free one called File Manager (Flashlight + Clock).
Here you have a video that easily shows how to set a ringtone with your favorite music file:
What happens if you change the notification ringtone but the tone doesn't change?
If the tone assigned for the notifications doesn't work please have this in mind:
Sound Profile changes the DEFAULT NOTIFICATION sound, for example, let's say that Sound Profile uses 'ding' as the default notification ringtone. Most apps uses their own ringtones, so your Text/Sms app sounds 'dong' and your email app sounds 'dung'. Changing Sound Profile notification sound to 'ding' will not change your Text/Sms or email ringtones, because in those apps you have chosen those specific sounds.
If you want any specific app to use the DEFAULT NOTIFICATION sound then you need to edit the properties or settings of that app and select the ringtone 'default ringtone' for it.
For example, if you want your Text/Sms app to sound as Sound Profile says then open your Text/Sms app, go to Settings, scroll down to Notification sound. On the list select 'default ringtone'. This way the app will use the one set by Sound Profile.
Many people find this useful, for example to have a serious ringtone for Text/Sms at work and a funnier one at home.