To modify the volumes of a profile, follow these steps:
Open Sound Profile and tap on the menu
Tap on Edit Profiles
Select the profile you want to edit.
Expand the Volumes section.
Select the desired volume for these options: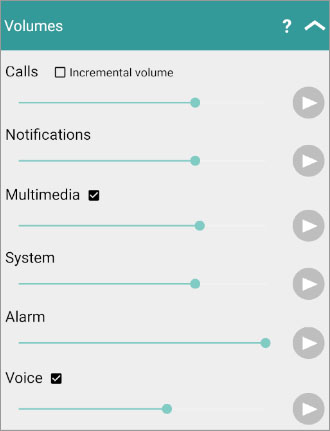 Calls: The volume of the ringtone when you receive a call. Tick the option "Incremental volume" to let Sound Profile increase the volume one step every second.
Notifications: The volume of the ringtone when you receive notifications or messages.
Multimedia: The volume of the multimedia audio for playing back videos or audios. Untick this option if you don't want Sound Profile to modify your multimedia volume.
System: The volume of system messages like low battery warning, confirmation beeps, keyboard clicks, screen lock sounds… Not all devices have this option. For more information see below.
Alarm: The general volume of your alarms to wake you up in the morning. For more information see below.
Voice: The volume of the other person when you talk on the phone. Untick this option to leave it unchanged.
Don't forget to Save your changes..
My alarm volume doesn't change
Not every Android phone allows third party apps like Sound Profile to change the value of the Alarm volume.
Samsung default Alarm app ignores this volume because each alarm in the Samsung Alarm app has its own volume.
If your Alarm app doesn't use the value set by Sound Profile in each profile then there is not much we can do. If you really need Sound Profile to control this volume, I suggest you to install another Alarm app and test it together with Sound Profile. There are a lot of them available in the App store.
My System volume slider is missing
Android 4.x has eliminated the System volume slider in the Sound Settings. Sound Profile cannot have this one back. Nevertheless, some Android releases for Samsung, LG and other venders have modified the original Android and have added that System volume back. So, check your devices sound settings, if you are able to see a System volume slider there then you will also be able to use it in Sound Profile.
To enable it, open Sound Profile settings and uncheck the option Ignore system volume as shown in the picture: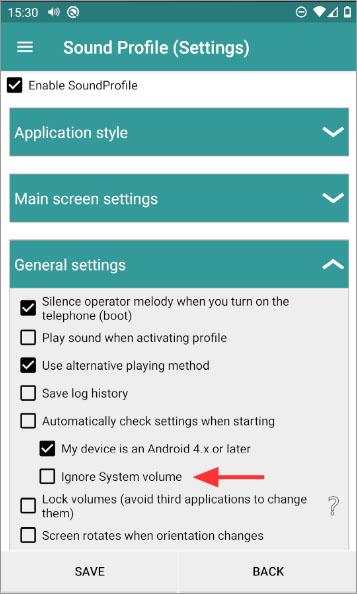 Please, only uncheck this option if you are 100% sure that your device has a System volume slider. Otherwise, the app will not work properly.
My System volume slider is displayed but it is disabled
Sound Profile may silence the power-off melody off your phone (where available). In order to do this the System Volume will be set to zero. So audible touch-tones and other sounds of minor importance will not be heard.
In this case the System volume slider will be shown as disabled in the Edit Profile. If you don't need this feature and prefer to control the System volume and set your own values then you need to disable this feature in Sound Profile Settings.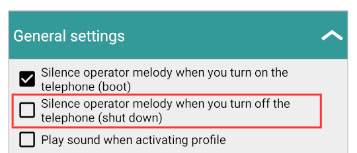 If you uncheck that value and Save your changes you will have the System volume slider enabled to use in the Edit Profile screen.