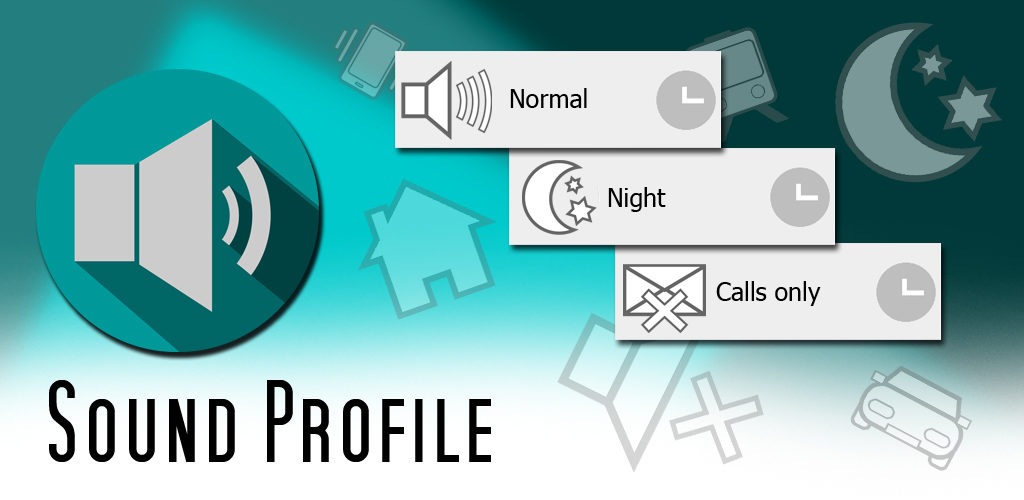 Have different sound profiles or volume profiles. Edit them, delete them or add new ones.
Android ties your notification and call ringtone volume together. Now you can emulate they are split. You can create "Calls Only" style profiles to avoid to be disturbed by no needed messages.
Profiles can be activated with a time limit so you will never forget your phone again in "silent mode" or "meeting mode". For example, activate "meeting mode" for just 30 minutes.
You can also schedule the profiles to be automatically activated at specific times according to your planning.
For example, at 6:00 am activate Loud, at 8:00 pm activate Silent.
This application also silences your phone while it is rebooting (shutting down and booting) so you will not hear annoying intro melodies from your operator (silent boot and shut down).
Use different wallpapers or background solid colors to quickly find your mode or profile.
★For each profile you may personalize ringtone volume, notifications volume, ringtone melody, notification melody, multimedia/system volume, alarms volume, vibration, bluetooth, wifi, screen brightness, screen timeout, synchronization, wallpaper picture or background color, Do Not Disturb mode, starred (favorite) contacts…
★Scheduler feature to automatically change profiles at given times (for example, activate Night at 10:00pm, Normal at 08:00am, etc). Have different pre-set weeks.
★Block list feature:
Select in each profile which callers are going to be allowed and which not. Never get awake in the middle of the night for an unwanted call, but be always ready for your kids, wife or husband.
★Tasks and Events:
-Activate profile "Car" when "my car" bluetooth is connected
-Activate profile "Home" when "my home WIFI" is detected
-Activate Wifi when getting close to your neighborhood
-Activate profile Job when getting close to your job
★Autodialing:
-Activate your voicemail in a profile and deactivate in another.
-Activate call forwarding
★Automation apps:
Let other automation apps (like Tasker, AutomateIt, Macrodroid…) to activate the profiles created in SoundProfile.
★Google Calendar:
Activate profiles or change the week scheduler depending on your Google Calendar events or reminders.
This app is not free. After the trial period it requires a small cheap subscription.
Please, send me any suggestions (in English) to corcanoe@gmail.com and I will answer you fast.