Sound Profile is able to set a planner or scheduler to automatically activate profiles at specific times during the week. For example, automatically activate profile Normal at 7:00 a.m. during the weekdays and Night at 10:00 p.m. But in weekends I want different times. All this is possible with Sound Profile and is very simple to set. Just follow these steps: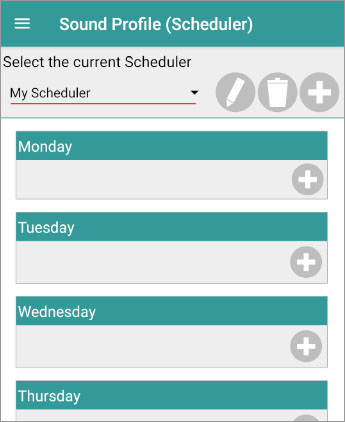 Open Sound Profile and tap on the menu
Tap on Scheduler
In the drop-down combobox select "My Scheduler" (if it is not already selected).
Icons next to the name () are used to rename the scheduler, delete it or to add new schedulers.
You will see you have different sections, one for each day of the week. One for Monday, another for Tuesday…
Look at the add icon in each day of the week. Clicking on it you are able to add time intervals for that day.
For example: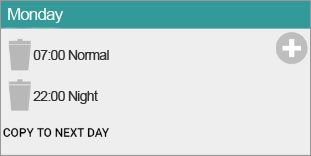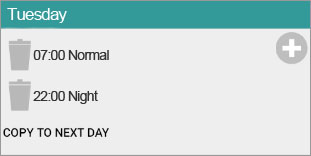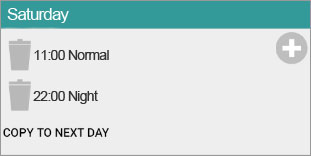 Click on Save after setting all your intervals.
Tapping on the remove icon  at the left will allow you to remove the time interval. 
Tapping on the interval will allow you to modify the time or the profile.
As you can see there is not a start and a end time for a interval. You don't need to specify that Normal starts at 7:00 and ends at 22:00, and Then Night starts at 22:00 and ends at 7:00. You just set Normal to start at 7:00 and Night to start at 22:00
Several schedulers
It is possible to have several preset Schedulers. For example, one called "My Scheduler" for normal use, another called "Christmas" for winter holidays, another called "Summer" and so on. This way you could activate "Summer" at the beginning of the Summer and "My Scheduler" at the end of the Summer.
Some people also use this feature for different work shifts, for example having a scheduler called "Night week shift".
You can automatically activate Schedulers depending on the date using the Android Calendar integrated in your device. For example, set your Android calendar to activate "Summer" on July, 1st and activate "My scheduler" on August, 31st. For more information on this feature read this article.